The mystery surrounding the death of the late Benga musician Edward Irungu Njaro who was more popularly known as Wanjaro continues to deepen as police in Murang'a County impounded a vehicle carrying the deceased body of the musician on the evening of Thursday, July 22.
The reports of the incident were recorded by Murang'a South police boss Alexander Shikondi, who said that the body was being transported from Embu Level Five Hospital mortuary without authorization from the family.
Police boss Shikondi explained that he laid in ambush and intercepted the vehicle at Kenol, Murang'a County, after receiving reports that the body was being transported without family permission.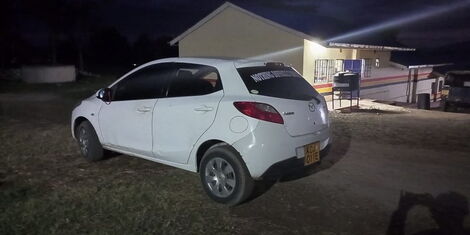 Vehicle of the body of benga musician Njoro impounded on July 22, 2021
Njaro's place of burial is still a point of contention, with his parents seeking to bury him in Murang'a while his wife, Ms Joyce Wanjira wants Njaro laid to rest in a public cemetery.
According to the police boss, the body was in a body bag and concealed in the back seats of the car.
The music maestro died under mysterious circumstances after his body was found floating in the Masinga Hydroelectric Power Station's dam which is located on the boundary between Embu and Machakos counties.
Njaro was reported to have committed suicide after a note saved on his phone was found, hinting at his death. "When I go missing, don't waste a lot of time looking for me. My body will be in Sagana River," the message read.
Njaro, who went missing on July 14, sent his friends a text message saying he would jump into River Tana due to depression over a Ksh700,000 debt he owed.
Njaro's father, Njaro Wairatu, was however quick to dismiss the claims that his son committed suicide, saying that his son had placed a frantic call to him where he sounded fearful.
The deceased musician's father went on to explain that his son had been abducted before his phone went off and trashed claims that his son was mentally unfit.
"He told me a certain businessman had been threatening him over a deal they had signed in Nairobi. He said the trader was demanding money from him over the botched deal," explained Njaro's father.
A post-mortem carried out by Dr Phyllis Kivisi on Njaro's body concluded that Njaro's death was "most likely as a result of drowning."
Njaro's father however insisted that his son had two visible injuries